New Jersey's New Rat Out Your Neighbor Line
Who Gets To Decide What Is Disinformation?
After the Berlin Wall came down, the Soviet Union disintegrated, and the Warsaw Pact fell apart a friend of mine succeeded in getting a look at the records the secret police kept on his family when he was a child in Eastern Europe. His father had been a dissident and the authorities had arrested him numerous times. What my friend discovered was that essentially everyone his family came into contact was reporting to the secret police, the butcher, the lady across the hall in their apartment building, and even members of his own family.
This is a tried and true methodology for totalitarian regimes. You turn the populace against itself. Everyone reports on everyone. Society polices itself and anyone who pushes any narrative other than that approved by the ruling class is identified and silenced.
It worked in the Soviet bloc. It works today in Communist China. And now, our very own thought police are bringing it to America.
New Jersey now has something called a Disinformation Portal. This Orwellian creation pushes the narrative that evil forces are spreading dangerous disinformation with the goal of destabilizing our nation. It also provides a phone number and an email address for a tip line and encourages you to contact the state government and turn in anyone you suspect of spreading disinformation.
Once upon a time, we subscribed to the notion that the free market of ideas guaranteed by the First Amendment would ferret out the truth and expose the lies. No more. It is now the government's role to identify those ideas which can be articulated and sanction those who deviate from the approved narrative. The New Jersey Disinformation Portal makes very clear what kinds of ideas will be allowed and which will not.
Here is one of the examples of dangerous disinformation provided:
"In August 2021, Facebook announced the removal of 3,000 accounts, pages, and groups for repeatedly violating the platform's rules against spreading COVID-19 and vaccine misinformation, amounting to more than 20 million pieces of content. This includes a group of 12 individuals coined the "disinformation dozen," who used their accounts to spread COVID-19 disinformation across social media. Meta, Facebook's parent company, removed three dozen accounts linked to these individuals on both Facebook and Instagram and imposed penalties on nearly two dozen others."
I personally have been "fact-checked" by Facebook numerous times on exactly this topic. I was thrown off another social media platform entirely because I was spreading "disinformation" concerning COVID-19. In all cases, my crime was to have discussed the possibility that COVID-19 came out of a Chinese lab where "gain of function" research was being conducted. That was contrary to the "approved" narrative. The outlet from which I was banned then informed me that I could return to the platform only if I wrote and posted a public apology and an acknowledgment of my transgressions. In Communist China, they call these struggle sessions, and they are designed to humiliate and emasculate dissidents.
We now know, of course, that the evidence is overwhelming that COVID-19 did come out of the Wuhan lab and that the U.S. government knew this early on. Only last week a FOIA request turned up a State Department memorandum in which that agency by April of 2020 had identified the Wuhan lab as the most likely source of the virus. The same memo also pointed out the fact that the Chinese were deliberately preventing us from getting to the truth.
zerohedge.com/covid-19/state…
"When Fox News ran a story in April 2020 suggesting that the virus came out of a Wuhan lab, Collins immediately contacted Fauci to explore ways the two men could "put down this very destructive conspiracy."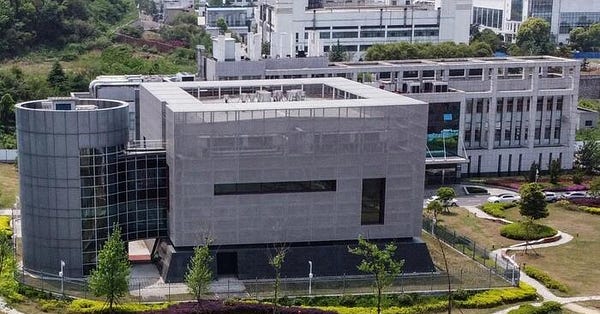 zerohedge.com
State Department Memo In Early 2020 Assessed That Lab leak Was Most Likely Origin Of COVID-19
"Out of five possible origins for COVID, a lab leak was by far the most likely..."
No matter. In April 2022, two years later, New Jersey is citing Facebook's aggressive actions to stifle dissent as textbook cases of how we all need to crush "disinformation" and sing from the same song sheet.
In 2016 we were told that Donald Trump was in league with Vladimir Putin and that Moscow was taking control of our government. A chorus of voices repeated this nonsense and anyone who disagreed was a "QAnon supporter" and a conspiracy theorist.
In 2020 we were told Hunter Biden's laptop was fake and Russian disinformation. Anyone who claimed otherwise was a Russian agent and a traitor.
In 2021 we were told COVID came out of a bowl of bat soup, that cloth masks would stop the spread of the disease, that proven therapeutics like hydroxychloroquine were useless, and that experimental vaccines would keep you safe from COVID-19.  All those who disagreed were told to shut up and follow the science.
Every one of these narratives has been proven to be false. They were exposed by a free people who refused to accept the lies, pushed aside the corporate media, and kept digging for the truth. Despite the best efforts of the propaganda wing of the Democratic Party, the truth came out.
Maybe that's the problem. Maybe that's why the focus is now shifting even more aggressively to simply silencing all those who dissent. Throwing people off Twitter and Facebook has proven to be insufficient. The government itself must now become directly involved. It must find and crush all those who refuse to toe the party line.
We would once have considered such a possibility unthinkable. It has now become reality. In New Jersey, they have a new rat out your neighbor line.
One wonders how long it will take for someone to call in and report this article.