In English We Just Call It Kidnapping - How The CCP "Persuades" Its Critics Abroad To Come Home
You probably already knew that inside China no one really has any rights. The Chinese Communist Party, the world's largest transnational criminal organization, can do whatever it wants. If you speak up or step out of line you are done. You will be disappeared.
Turns out the CCP doesn't see any reason why those tactics need to stop at international borders. Seems it has an entire worldwide program that allows it to hunt down anyone who steps out of line and "persuade" them to come home.
According to a new report by a group called Safeguard Defenders, between April 2021 and July 2022, Chinese police "persuaded" 230,000 claimed fugitives to return to China "voluntarily." Persuasion in this sense means that Chinese police, acting outside China, tracked down Chinese citizens and then leaned on them. They threatened to deny the target's children, still in China, any education. They threatened other family members of the target individual with a whole range of actions. They forced those family members in China to help them pressure the target to return.
Basically, it works like this. The Chinese authorities contact you in the country where you are living. They pressure you to come home. Maybe they set up a video call with your grandmother just to remind you how much hell they can unleash on her if you refuse. Maybe they spray paint her house with graffiti accusing her of crimes against the state and cut off water and power to her home.
The Chinese representatives don't work through local police in the country in question. They don't bother with legalities or paperwork. They twist your arm until you agree to the inevitable. You go home. You face the music. Nobody says no to the ultimate godfather Xi Jinping.
To facilitate these actions, the Chinese have now set up special offices worldwide.
There are at least 54 police-run "overseas police service centers" across five continents now. Their entire purpose is to facilitate these extra-legal police operations on foreign soil.
Backing up these "service centers" is a new Chinese law that purports to grant Chinese police full extraterritoriality over Chinese and foreigners globally for certain crimes (fraud, telecom fraud, online scams, etc.). Precisely, where the CCP would get such unprecedented power, is not specified. It does not matter. For the CCP the "law" is not a particularly serious concept anyway.
Lest you think that these Chinese operations only occur somewhere else, think again. Months ago FBI Director Wray discussed publicly how the Chinese were pursuing hundreds of opponents of the regime on U.S. Soil. Wray described the Chinese efforts as part of a worldwide campaign against the Chinese diaspora called Operation Fox Hunt. According to Wray, in at least one case, the target of the Chinese efforts was given exactly two choices, commit suicide or come home.
Fox Hunt was launched six years ago by President Xi Jinping. The CCP bills it as an effort to hunt down "economic criminals." Wray made clear the real purpose of the operation is to stifle dissent.  He told the Hudson Institute in Washington: "China describes Fox Hunt as some kind of international anti-corruption campaign. It is not. Instead, Fox Hunt is a sweeping bid by Xi to target Chinese nationals who he sees as threats and who live outside of China, across the world.
"We're talking about political rivals, dissidents, and critics seeking to expose China's extensive human rights violations."
Wray added, "Hundreds of these Fox Hunt victims that they target live right here in the United States, and many are American citizens or green card holders. The Chinese government wants to force them to return to China, and China's tactics to accomplish that are shocking."
Wray did not explain how his concerns about Chinese activity on our soil dovetailed with Joe Biden's decision to terminate the China Initiative, which targeted Chinese intelligence officers on our soil. Nor did Wray suggest any particular plan for stopping the CCP from hunting down its political opponents inside the United States. Given that most of the senior policymakers in the Biden administration are completely compromised by the Chinese that is perhaps not surprising.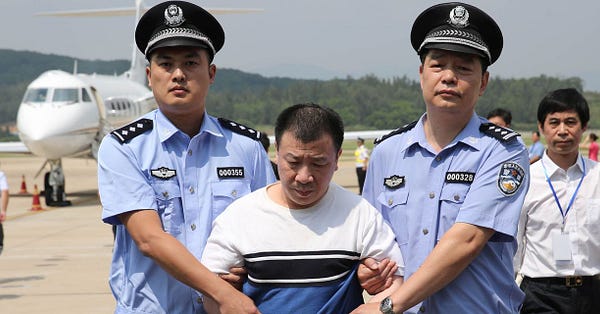 on.wsj.com
Opinion | Chinese Spies Violate U.S. Sovereignty and Americans' Rights
Federal officials need to step up investigation and prosecution of Beijing's Operation Sky Net.
The CCP is a brutal, totalitarian entity. It enslaves its own people. It invades and occupies nations like Tibet and then engages in systematic, genocidal policies designed to erase all traces of non-Chinese cultures. It engages in industrial-scale organ harvesting for profit.
We ought to cut completely free of any entanglement with the CCP. We ought to stand for liberty and justice and the dignity of all men. We ought to act in accordance with our principles.
We do not. We continue to do business with the CCP. We continue to look the other way while it persecutes its own people worldwide. And, now, we stand and watch while the CCP "persuades" courageous opponents of the regime to come home and submit.
I don't speak Chinese. Maybe I don't understand the nuances of the word "persuasion" in Mandarin. In English, we just call it kidnapping.
AND Magazine is a reader-supported publication. To receive new posts and support my work, consider becoming a free or paid subscriber.