"2000 Mules" Alleges 2020 Was Stolen
Dinesh DiSouza's latest movie on 2020 election fraud is being screened in theaters throughout the country on May 2nd and 4th. And will be available online on 8th May at 8 p.m. According to Kevin McCullough, who screened the film, the film has "4.3 million minutes from state-owned surveillance footage" and "geo-tracking data" that will show clear election fraud.
"What I am saying without reservation and with absolute science and evidence supporting it—using the evidence in the film from only a handful of regional locations from only some of the states in question—Biden clearly lost."
Watch the trailer:
@MAGAMichellee
2000 Felonies Caught On Camera!
2000mules.com
Ballot Harvesting/Trafficking Mules matched to 2 peta-bytes geo-fenced data! Same data capture method the FBI had "in place" for 6 Jan...to issue Arrest Warrants within 72 Hours!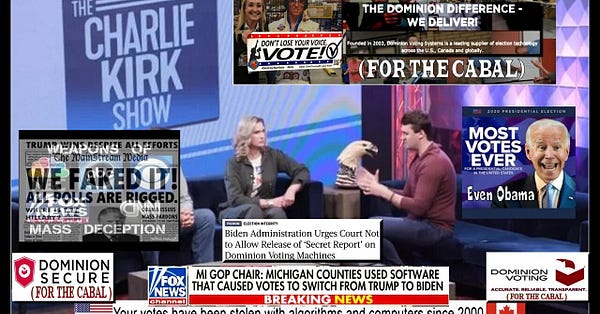 Charlie Kirk Show on 2020 Fraud and "2000 Mules" — NRSC Was Given Evidence of Fraud but Did Nothing
HUGE: Engelbrecht and Phillips on Charlie Kirk Show on 2020 Fraud and "2000 Mules" — NRSC Was Given Evidence of Fraud but Did Nothing This Content Is Mirrored. Please support the original creator. By
rumble.com